Bimetallic Thermostat
ST-3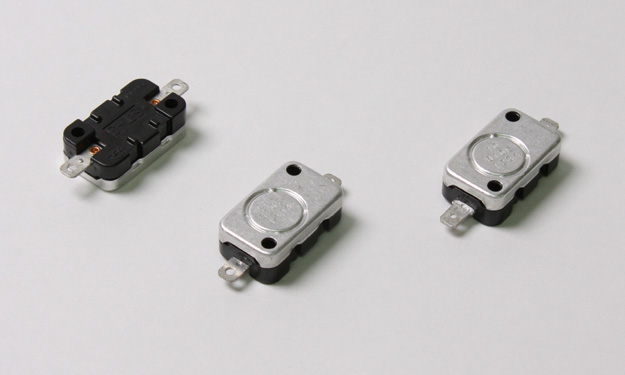 Low Profile Thermostat
Suitable for surface temperature detection. Low profile design for installation in a narrow space.
Applications
Commercial freezer-refrigerator
Ice maker
Slot-vending machine
Electric water heater
Feature 1
Low profile design, which allows it to be installed in a narrow space.
Feature 2
With regard to current rating, standard type, and microcurrent type are available.
[Microcurrent type] ST-3L
Feature 3
Vinyl-sealed water-proof type also available, which can be also used in applications for protection from freezing.
Specifications
Type
Single pole - single throw
Rated Current
AC125 10A

[Microcurrent type(ST-3L)]
AC250V/DC24V or less
200mA or less
Resistive load
Operating Temperature
Any temperature between - 20°C and 150°C can be specified.
Automatic Reset Temperature
Any value can be specified within the range that satisfies the differential.
Differential
10deg or more
Standard 15〜25deg
Temperature Tolerance
OFF temperature : ±5°C or more
ON temperature : ±10°C or more
Endurance
10000 cycles
Dielectric Strength
AC1,500V 1min
or
AC1,800V 1sec
Insulation Resistance
100MΩ or more(DC 500V)
Circuit Resistance
50mΩ or less
Heat Resistance
150°C