Pressure switch
PS-20 Series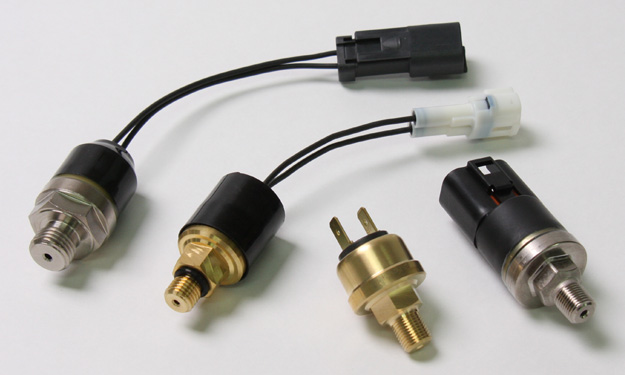 High-Pressure-Resistant, Highly Durable, Versatile Pressure Switch
Versatile pressure switch which is available in a wide range of pressures and media.#250 tab terminal type, water-proof lead type, and water-proof integral connector type are available.
Applications
Automotive/Hydraulic equipment
Pneumatic equipment
Feature 1
As the unit is adopting electric wire drawing out type, the connector can be arbitrarily set.
Feature 2
Copper-based spring type with large capacitance and a stainless spring type for high endurance are available.
Specifications
Type
Single pole - single throw
Rated Current
DC12V 5A
DC24V 2A
Operating Pressure
Any value between 0.1 and 12MPa can be specified.
Automatic Reset Pressure
Any value can be specified within the range that satisfies the differential.
Differential
15% or more of operating pressure.
Pressure Torerance
±0.02MPa or ±5% of operating pressure, whichever greater
Endurance
100,000 cycles
or 10 million cycles dependent on the conditions
Dielectric Strength
AC500V 1min
or
AC600V 1sec
Insulation Resistance
10MΩ or more(DC 500V)
Heat Resistance
120°C