Pressure switch
PS-17 Series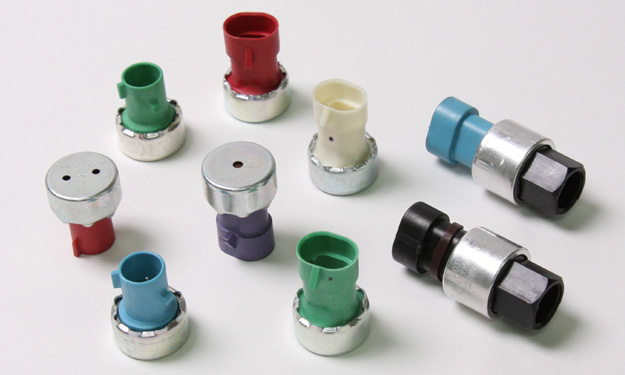 Economical Pressure Switch for Automotive Air Conditioners
Pressure switch with integral connector designed for installation on compressors and accumulators.
Applications
Automotive air conditioner system
Feature 1
PS-17,17C
It is designed to be directly mounted on the compressor with a snap ring.
Feature 2
PS-17B
It is a pressure switch dedicated for low-pressure side with a plastic fixing screw adopted.
Specifications
Type
Single pole - single throw
Rated Current
DC12V 5A
Operating Pressure
[PS-17,PS-17C]
Any value between 0.2 and 4MPa can be specified.

[PS-17B]
Any value between 0.2 and 0.5MPa can be specified.
Automatic Reset Pressure
Any value can be specified within the range that satisfies the differential.
Differential
15% or more of operating pressure.
Pressure Torerance
The pressure shall be higher one either ±0.02MPa or ±5% of the working pressure.
Endurance
[PS-17, PS-17C]
20,000 cycles

[PS-17B]
500,000 cycles
Dielectric Strength
AC500V 1min
or
AC600V 1sec
Insulation Resistance
10MΩ or more(DC 500V)
Heat Resistance
120°C