Metallic Expansion Type Thermostat
EX-3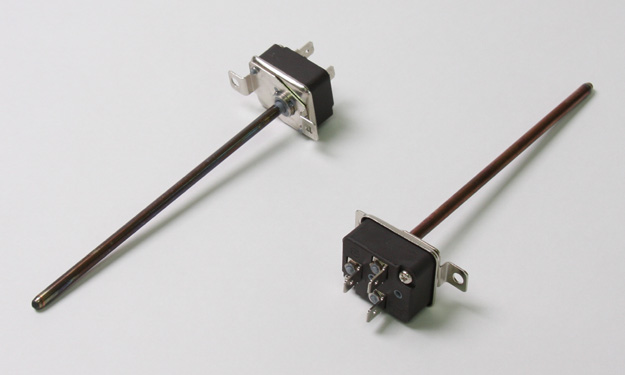 Super-High Temperature, Metallic Expansion Type Thermostat
It is a thermal sensitive rod type thermostat developed for the purpose of operations at high temperature up to 500°C. Especially, this provides an excellent heat resistance and is suitable for applications in harsh environments.
Applications
Heat treat furnace
Boiler
Feature 1
This thermostat functions by sensing a temperature with a bar-rod protruded from the main body. It can be used at a high temperature up to 500°C.
Feature 2
The mechanism provided with a single pole / double throw switch allows an alarm or a signal system to be operated simultaneously with a load turned ON or OFF.
Specifications
Type
Single pole double throw
Rated Current
AC250V 3A
Resistive load
Operating Temperature
170°C〜500°C
Automatic Reset Temperature
Any value can be specified within the range that satisfies the differential.
Differential
100deg or less(dependent on the length of the thermal sensitive rod)
Temperature Tolerance
±20°C or more
Endurance
10,000 cycles or more
Dielectric Strength
AC1,500V 1min
or
AC1,800V 1sec
Insulation Resistance
100MΩ or more(DC 500V)
Circuit Resistance
150mΩ or less
Heat Resistance
Heat sensing surface : 500°C
Switch part : 350°C