Bimetallic Thermostat
CWK-4PB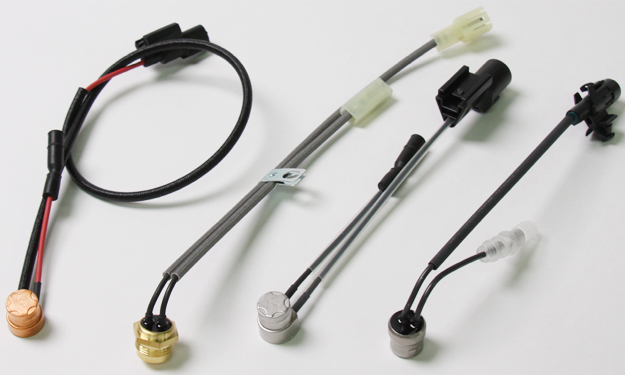 Compact Water-proof Thermostat
This thermostat is designed for protection of automotive air conditioner compressor from overheating.The compact design provides better installation flexibility. Most of compressor manufacturers commonly use it.
Applications
Automotive air conditioner compressors
Feature 1
There are two mounting options: a holder mounting type, such as using a stay bar, and a screw-mounting type.
Feature 2
With the lead-wire-pulled-out type adopted, any connector can be setup.
Feature 3
Two types of contact connection are available: Clutch cut-off type and ECM circuit type.
Specifications
Type
Single pole - single throw
Rated Current
DC12V 5A
Operating Temperature
Any temperature up to 160°C can be specified.
Automatic Reset Temperature
Any value can be specified within the range that satisfies the differential.
Differential
15deg or more
Temperature Tolerance
OFF temperature : ±4°C or more
ON temperature : ±5°C or more
Endurance
10,000 cycles
Dielectric Strength
500V 1min
or
600V 1sec
Insulation Resistance
10MΩ or more(DC 500V)
Heat Resistance
160°C