Bimetallic Thermostat
CT-7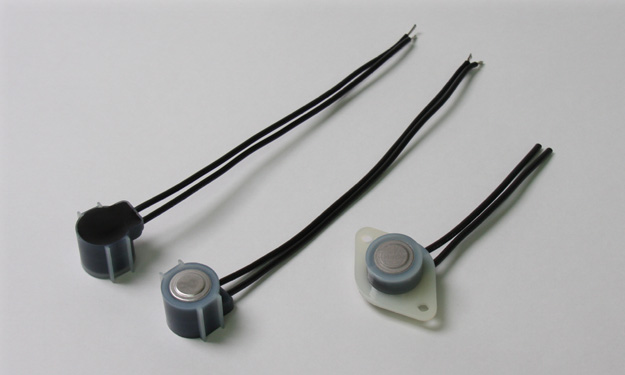 Water-proof Thermostat
Thermostat with a water-proof lead for applications at low to medium temperature.It is suitable for use in wet areas and anywhere else likely to build up condensation.Quick thermal sensing equivalent to a general thermostat, enabled by the structure where the heat sensing surface to transfer heat to the bimetals is designed to tightly contact with the heating media.
Applications
Commercial freezer-refrigerator
Snow melting machine
Anti-freeze system for outside equipment
Feature 1
We will offer the lead in your desired length and type, if necessary.
Feature 2
It can be also used in applications in a frost environment such as an ice maker and a defrost device.
Feature 3
[Microcurrent type]
CT-7L
Specifications
Type
Single pole - single throw
Rated Current
AC125 10A
AC250V 5A

[Microcurrent type(CT-7L)]
AC250V/DC24V or less
200mA or less
Resistive load
Operating Temperature
-20〜110°C
Automatic Reset Temperature
Any value can be specified within the range that satisfies the differential.
Differential
8deg or more
Standard 15〜25deg
Temperature Tolerance
±3°C or more(Standard : ±5°C)
Endurance
10,000 cycles or more
Dielectric Strength
In water: AC1,500V 1 minute
Insulation Resistance
100MΩ or more(DC 500V)
Circuit Resistance
50mΩ or less
Heat Resistance
110°C