Bimetallic Thermostat
CH-16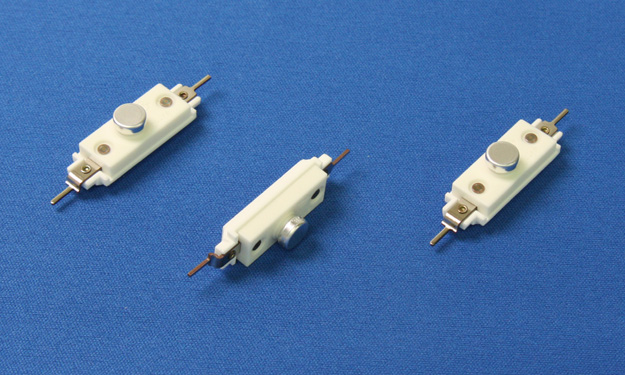 Super-Quick Thermal Responsive, One Shot Type Thermostat
This product is significantly improved in the thermal response compared to conventional one shot type thermostats.Its ceramic casing provides excellent heat resistance and enables use in high temperature atmosphere.With super-excellent thermal response, it is suitable for prevention of excessive temperature rise in the equipment with a very rapid temperature-rise.Down-sized in the width for better installation flexibility.
Applications
Printer
Copier
Feature 1
High temperature, one shot type thermostat developed for faster thermal response when contacted. It can function only once and will no longer be reset after functioned, same as a thermal cut-off.
Feature 2
2 types are available for the standard terminal connections: a clinching-type terminal and welding-type terminal.
Feature 3
CH-16B
Screwing type and Reinforced insulation type are also available for terminal connections.
Feature 4
CH-16L
Microcurrent type(MAX260°C) (DC24V 1A or less)
Specifications
Type
Single pole - single throw
Rated Current
AC250V 17A
Resistive load
Operating Temperature
220〜280°C
Temperature Tolerance
±7°C or more
Endurance
1shot
Dielectric Strength
AC1,500V 1min
or
AC1,800V 1sec
Insulation Resistance
100MΩ or more(DC 500V)
Circuit Resistance
50mΩ or less
Heat Resistance
240°C